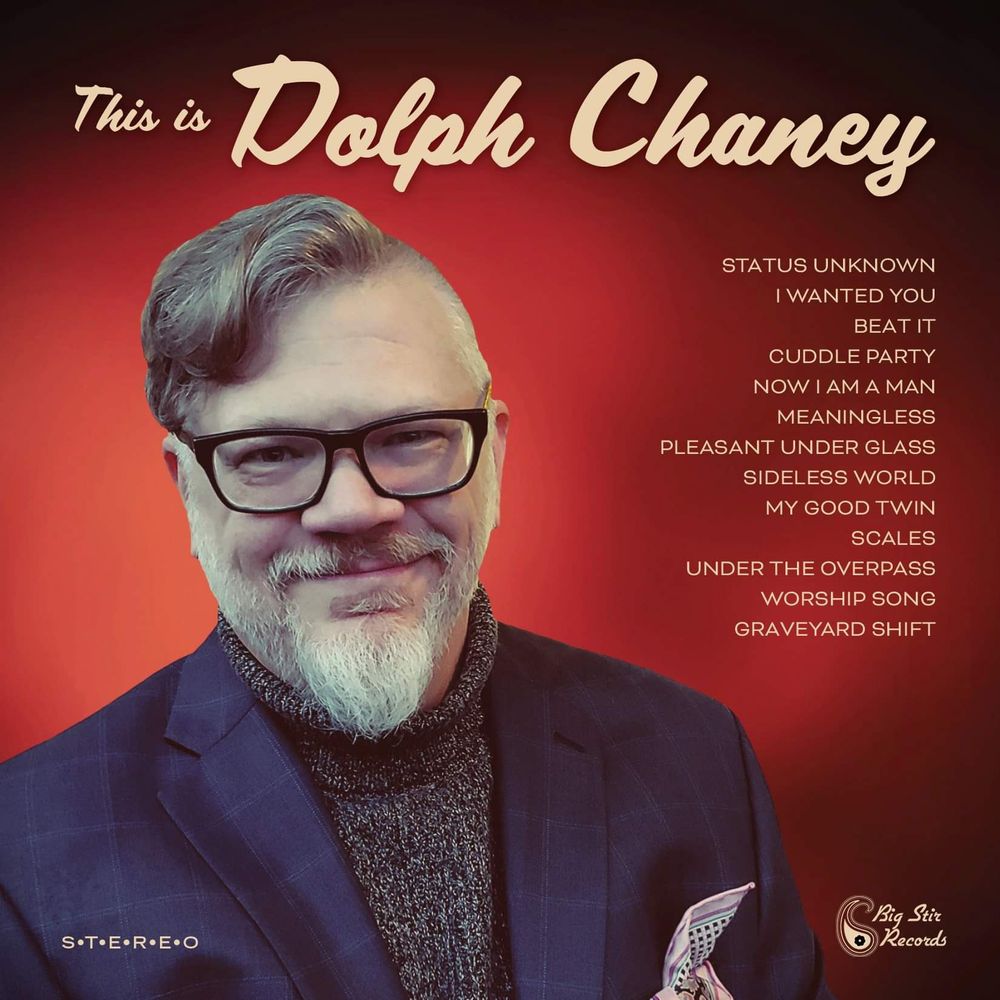 THIS IS DOLPH CHANEY
album available Feb 20, 2021
babysue TOP PICK:
"Look out pop music fans. Dolph Chaney's back. And this time he's hit one totally out of the ballpark. Chaney impressed lots of folks with his last release (Rebuilding Permit). That album had a great deal of unique charm, and lots of folks really loved the simple stripped down sound. When I first heard that Chaney had gone for a more polished studio sound this time around, I was kinda concerned. Would the elements that were appreciated so much last time remain intact? Well, hell, the answer is YES. All those elements are still there...but now they've been upped several notches. For this humorously-titled album Dolph teamed up with Nick Bertling (of Bertling Noise Laboratories) and together the two created a modern pop masterpiece. These songs have a much more punchy percussive sound than the last album. But the reason the new approach seems to work so well is probably because of the choice of material. These songs are ultra strong and memorable. And there are no clunkers to be found, period. Several are like mental glue, impossible to get out of your head once you hear them. Even Chaney's voice sounds more focused and gripping. Whereas Rebuilding Permit reminded me of folks like Scott Miller and Alex Chilton, This Is Dolph Chaney reminds me more of The Raspberries at times (and coming from me that's a huge compliment). All of these songs sound like potential hits, but my initial favorites include "I Wanted You," "Cuddle Party," "Pleasant Under Glass," "My Good Twin" (this one is over-the-top killer), "Worship Song" and "Graveyard Shift." If you enjoyed Chaney's music before, chances are you'll be totally blown away by this album. Smart fine-tuned pop music that is inspired and truly resilient. Highly recommended. Top pick."
review by Ian Canty (Louder Than War):
"Dolph Chaney made his first forays into music way back in 1987, but it is only in the last few years that he has been making the kind of headway his talent warrants. After his recent (and excellent) Rebuilding Permit album from last year, his first for the Big Stir label, he's back now with a new LP simply entitled This Is Dolph Chaney. Changes are afoot though, whereas in the past Dolph did pretty much everything on his own, on this latest collection he collaborates with Nick Bertling of Bertling Noise Laboratories, who produced the set in addition to playing various instruments too....the sleeve brings to mind a greatest hits album, with the song titles going down the right hand side as we face it. This is actually not so far from the truth, as the selections featured find Dolph sourcing 13 songs from his back pages. These numbers were written at various times during the last 30 years with the oldest effort being Under The Overpass, which was originally conceived way back in 1991. Fortunately enough and adding to this "best of" feeling, you can pick virtually any track on the record and come up trumps with something would sound great coming out of the radio, hi fi, jukebox, anywhere really.
...
It doesn't offer easy answers, but does reveals the joy and knowledge that learning hard lessons can bring... these tunes successfully latched themselves in my subconscious and like the great collection it is, I suspect more plays will yield further delights. This Is Dolph Chaney works both as a concise and neat introduction to his work and as an enigmatic, thoroughly enjoyable album of depth, real emotion and sharp insight."
Full review at
https://louderthanwar.com/dolph-chaney-this-is-dolph-chaney-album-review/