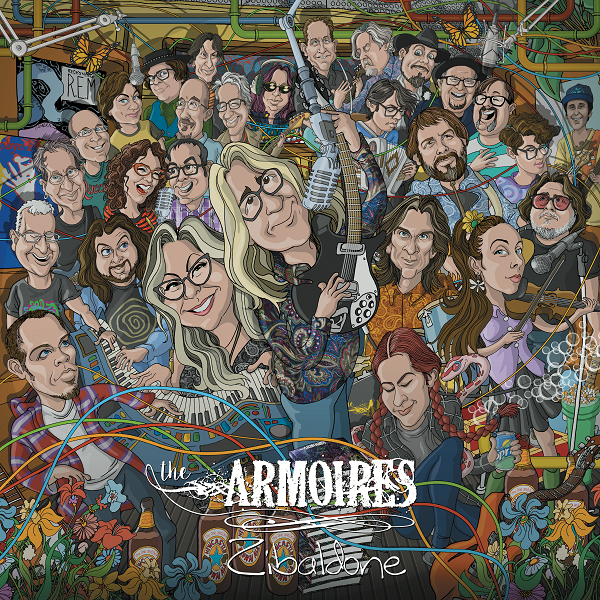 The Armoires, ZIBALDONE (Big Stir Records)
Release Date: August 2, 2019 (available now)
Did The Armoires' new album save my life?
Monday 7:09am. My alarm fails to ring, and so I've started my day 90 minutes late -- to be compounded quickly by the special hell of Chicagoland summer roadwork traffic. I stomp through my chores, comb my teeth, dodge the wee hungry beasties, and grumble out the door.
I am twitching and bitching at every minor vehicular rudeness in my path, and my anger is in danger of becoming its own mishap risk factor.
Luckily I remember that I just purchased ZIBALDONE, the second album by Burbank undley paisergrounders The Armoires.
10 seconds in, behind a Derek Hanna drumalanche intro worthy of its continent-spanning subject matter, "Appalachukrania" has implanted the catchiest touring-England-travelogue / mission-statement since "Magical Mystery Tour" -- with ten times the poignancy -- such that in four minutes flat my frown is flipped. (That so many names and places I know are featured in the story only warms me further.) "Pushing Forty" keeps the joy conveying to this greying listener, and by the time "McCadden"'s midsection has bloomed into a full Beach Choir and Ensemble, we're smoothly in cruise.
The swooning sweep of "The Romantic Dream Appears Before Us," led by Larysa Bulbenko's languid viola and joined by guest bassist Miranda Broome, takes us back to what the Armoires did so well on their debut INCIDENTAL LIGHTSHOW. Two tracks later, singer/guitarist Rex Broome (yes relation) revives his pre-'moires classic "Satellite Business" to provide a winsome link to the band's roots, with founding bass stalwart Cliff Ulrich (relation unconfirmed) adding harmonica to his usual choice contributions.
But in between and thereafter, ZIBALDONE (rhymes with Monet) adds an abundant range of new colors, many of which foreground singer/keyboardist Christina Bulbenko (totes relaysh). "Suddenly Succulents" is a delightful accordion waltz to close side 1 with guest appearances by Jared Jenkins on accordion, the Corner Laughers on b.vox... and yes even The Devil?!
Kicking off with the Bangle-jangle-au-go-go acid-hitsville-USA shang-a-lang of pre-album single "(How Do You Make) A Mistake Like Me?", side two just gets richer and fuller and woolier as it goes. Along the sharp and thrilling curves are more chorale action (courtesy of Canterbury quartet Spygenius) on "Is Drama Sue Here?," a swirly new viola/organ classic in "Alesandra 619," and especially the squiggly post-punk of "Just Like Carl Crew Said" taking the band new and giddymaking places.
And then, for the finale, they return to recalling the embattled Kingdom that they started the album exploring. "When We Were In England (And You Were Dead)" pays acknowledged homage to Robyn Hitchcock -- even deploying his sometime producer and fellow Soft Boy Matthew Seligman in the bass chair -- but don't let that fool you. The song is classic Armoire elegy, communicating the ache, the wit, the poetry, and the generosity of spirit that is at the Broome/Bulbenko core. This album is your new best friend.
...but did it in fact save my life?
Well, smart guy, do they have WiFi in the grave?