For Giving Tuesday 2019, "It's OK" and "I Am The B-Side" will make their physical debut on BIG STIR SINGLES: THE FOURTH WAVE -- the newest in the ongoing series of quarterly roundups from Big Stir Records. The Ed Asner Family Center gets $5 for every copy (CD or download) of THE FOURTH WAVE.  This incredible organization provides support to families of those with special needs, and I have never been prouder to be associated in some small way (alongside my Big Stir buddies, particularly acknowledging Joe Normal, Rex Broome and Christina Bulbenko) with such inspiring and meaningful work.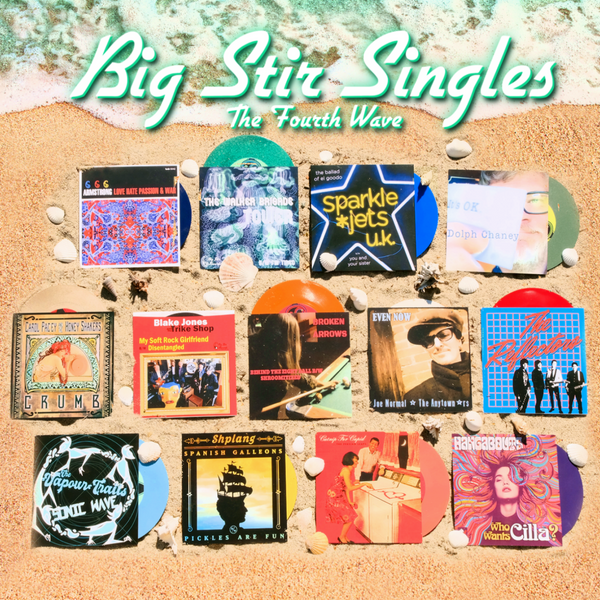 On top of all that, the compilation itself (available Dec 3 on CD and download) is a total gas, 25 tracks of guitar harmony bliss. Joe Normal & the Anytown'rs (who initiated the connection to the Asner Center) contribute the keynote track "Even Now", and the A and B sides of 12 singles from various angles of melodic guitar rock from California veterans like Blake Jones & The the Trike Shop, sparkle*jets UK, The Reflectors, The Walker Brigade, and recent BSR signees Shplang, as well as likeminded artists from throughout the US (Carol Pacey & the Honey Shakers, The Hangabouts, Broken Arrows, and the Persian Leaps) and UK (The Vapour Trails, Armstrong) who fit the tuneful Big Stir ethos like a fingerless velvet glove.  (Read more at https://www.bigstirrecords.com/big-stir-records-compilations where you can order and get an instant download from the album!)
ABOUT THE ED ASNER FAMILY CENTER:
Legendary Emmy®-winning actor and comedian Ed Asner, who has brought us laughter and entertainment for more than four decades, today announced the creation of The Ed Asner Family Center (TEAFC), dedicated to promoting self-confidence in differently abled individuals and bringing balance and wellness to those individuals and their families. A longtime advocate for the developmentally disabled and those on the autistic spectrum, Asner personally understands the challenges that Special Needs families face, and the healing power of a creative, loving environment.
Said Asner: "This is a dream of mine - to establish an oasis of creativity in every special needs community. A place where our most beautiful dreamers of all can have their opportunity to thrive and in doing so learn valuable lessons about themselves and the world and in the same building give families an opportunity to be healthy. This center of enrichment is where we can develop a most important part of our being, character."
The Ed Asner Family Center will be offering a wide variety of Arts programs as well as mental health support and de-stress classes such as mindfulness and yoga dedicated to promoting self-confidence and balance. Additional classed include music, dance, voice over, theatre, fine arts, culinary, resume building and job mentorship classes.
---
www.BigStirRecords.com
www.edasnerfamilycenter.org
www.joenormalusa.com