Big Stir Records press release: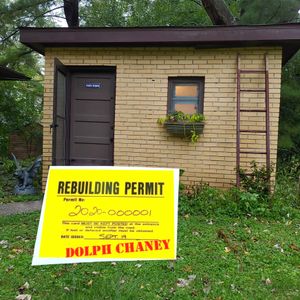 Time to start rebuilding! BIG STIR RECORDS is proud to announce the April 3 release of REBUILDING PERMIT, the new album from DOLPH CHANEY, up for pre-order now at https://www.bigstirrecords.com/store and everywhere music is sold. Seven years since the Chicagoland singer-songwriter's last album - and two solid years in the making - the wait is over. Rebuilding Permit is in hand for spring 2020, and Dolph is here to break new ground with his full-length debut on Big Stir. 
It's an eclectic but focused stunner. Coming out of a challenging time of loss and recovery, Dolph has tightened up and written in a way that uses his imaginative skills to connect with his listeners at a deeper level than ever. You can still expect what you came for if you're already hip to his deal: chord changes, collisions of style, and turns of phrase that fly in from all directions, only to make themselves right at home. What's different here is that Chaney has kept the quirks and digressions as filigree, digging deeper to the emotions underneath. The whimsy is in the details rather than being the point. Our boy's grown up! 
And for the first time since his 1998 New Bird Rise album, he and his quiver of guitars, Moog, and bass are not doing all the work alone. The Rebuilding crew includes engineer Milk Arnold, Ryan O'Malley (who adds roiling Hammond organ to "A Good Road Is Hard To Find"), and drummers Clayton Melocik (on the giant psych-jangle of leadoff track"It's OK") and Jim LeFager, who navigates the rest of the album's gauntlet of genres. 
Indeed, you'll be treated to everything from rolling shanty-folk ("The Biscuit (Who Grabbed My Face)") to sensitive and deft rimshot grooves ("Broken," "If I Write It Down") and dam-smashing echo ("Diet Of Worms"), from searing and searching roots-rock ("The Handling") and an end-of-prom last-nerds-standing waltz ("(Who Am I) To Ask You To Dance?") to the '90s-throwback agitpop-punk of "The President Of The United States Is The Breitbart Bimbo." The comparisons to Bob Mould, Guided By Voices, and even Peter Gabriel seem apt given the scope of the work on hand here. 
Rebuilding Permit comes on the heels of two singles, "It's OK" and "The Handling", which garnered international airplay and a wider audience for Chaney, yielding reviews from the likes of The Big Takeover ("a passionate wall of melody") and a Dolph-curated artist block on Boom Radio's There Once Was A Note program. Both tracks, along with exclusive non-album B-sides, can be found on the BIG STIR SINGLES CD compilations (THE THIRD WAVE and THE SIXTH WAVE respectively). Dolph Chaney is thrilled to have REBUILDING PERMIT on file with Big Stir so he can get to work making a new home in your ears and hearts.